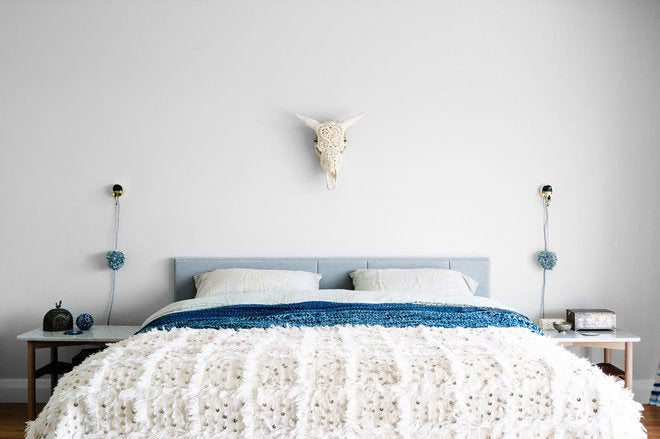 Traditionally worn over brides' shoulders as a wedding garment, handira, also known as Moroccan wedding blankets, are beautiful textiles handmade by Berber artisans in the Middle Atlas mountains of Morocco. These decorator darlings have gathered a loyal following around the globe, and for good reason: The incredible texture of the handwoven cloth, with patterns of thick fringe and a bit of sparkle from mirrored sequins, can upgrade everything from floors to furniture. Read on for 10 creative ways to put this textile to work.
A large Moroccan wedding blanket makes a beautiful bedcover, adding textural interest and a touch of glamour to this serene sleeping space. Since most wedding blankets are neutral in colour, mixing and matching your other bedding is easy.
2. Bedhead refresh
For an easy bedhead update, simply drape a wedding blanket over the centre of your bedhead. For the best fit, measure your bed before shopping, and look for a wedding blanket that will cover at least two-thirds of the width of the bedhead.
3. Folded at the foot of the bed
Authentic, vintage Moroccan wedding blankets can be quite pricey. To keep within your budget but still get the look, choose a smaller blanket, fold it in half or thirds and lay it across the foot of your bed.
4. Wall hanging
Instead of hanging framed artwork above the bed that you can bump into or knock down, why not hang a wedding quilt? The textiles are rich and warm, making them a perfect choice for the bedroom.
5. On the floor
Add unexpected texture to an empty hall by laying a wedding blanket on the floor. Just be aware that wedding blankets catch crumbs like crazy and are not easy to clean, so it's best to use one in a low-traffic area.
6. Daybed cover
Create your own Moroccan lounge simply by covering a low daybed or mattress with a wedding blanket. Topped with nubby pillows, it becomes an inviting spot to sit and chat or have tea.
7. Tossed over an armchair
Loosely draped over a chair, a wedding blanket can turn even a basic seat into something exotic. Because the blankets are handmade, each is unique – and some have quite pronounced tufts of fringe that can feel lumpy to sit on. So for this or any seating application (including No. 6, the daybed) choose a wedding blanket with a bit less texture if you can.
8. Quick sofa makeover 
Getting tired of your old sofa? Instead of replacing it or springing for expensive new upholstery, give it a new look in an instant by draping a wedding quilt neatly over the back. The neutral hues work with just about any colour of sofa.
9. Pillow covers 
You can find cushions made from Moroccan wedding blankets ready to buy, or you can have a local seamstress turn a blanket into cushions for you. To make the textile go the farthest, have the backs of the cushions done in a solid fabric.
10. Cosy throw 
Channel the original intention of the wedding blanket and use it as a wrap around your shoulders on a chilly evening. These unique, intricately woven textiles look appealing no matter where you toss them.
Jan 01, 2021

Category:

News
Comments: 0